I am an Assistant Professor of Computer Science at James Madison University. I am interested broadly in computational geometry, a sub-area of computer science theory that includes applications to graphics and vision (among others). Most recently I have focused on problems arising from computational origami and have been tackling an interesting set of problems that lie at the intersection of circle packing and rigidity theory (especially in regards to polyhedra).
I am the leader of the Ars Geometrica Lab, more up to date information on what the lab is doing can be found at that link, including student blog posts from ongoing projects.
Upcoming
In June 2017, I am organizing a workshop on Circle Packing, which is hosted here at James Madison University (June 6-9). Details to follow. If you are interested in attending this workshop, please send me an email.
This summer I am looking to do research with a couple of students as part of a Research Experience for Undergraduate's (REU) program we are organizing for the CS department at JMU. If you are interested, please read the REU Page.
My Research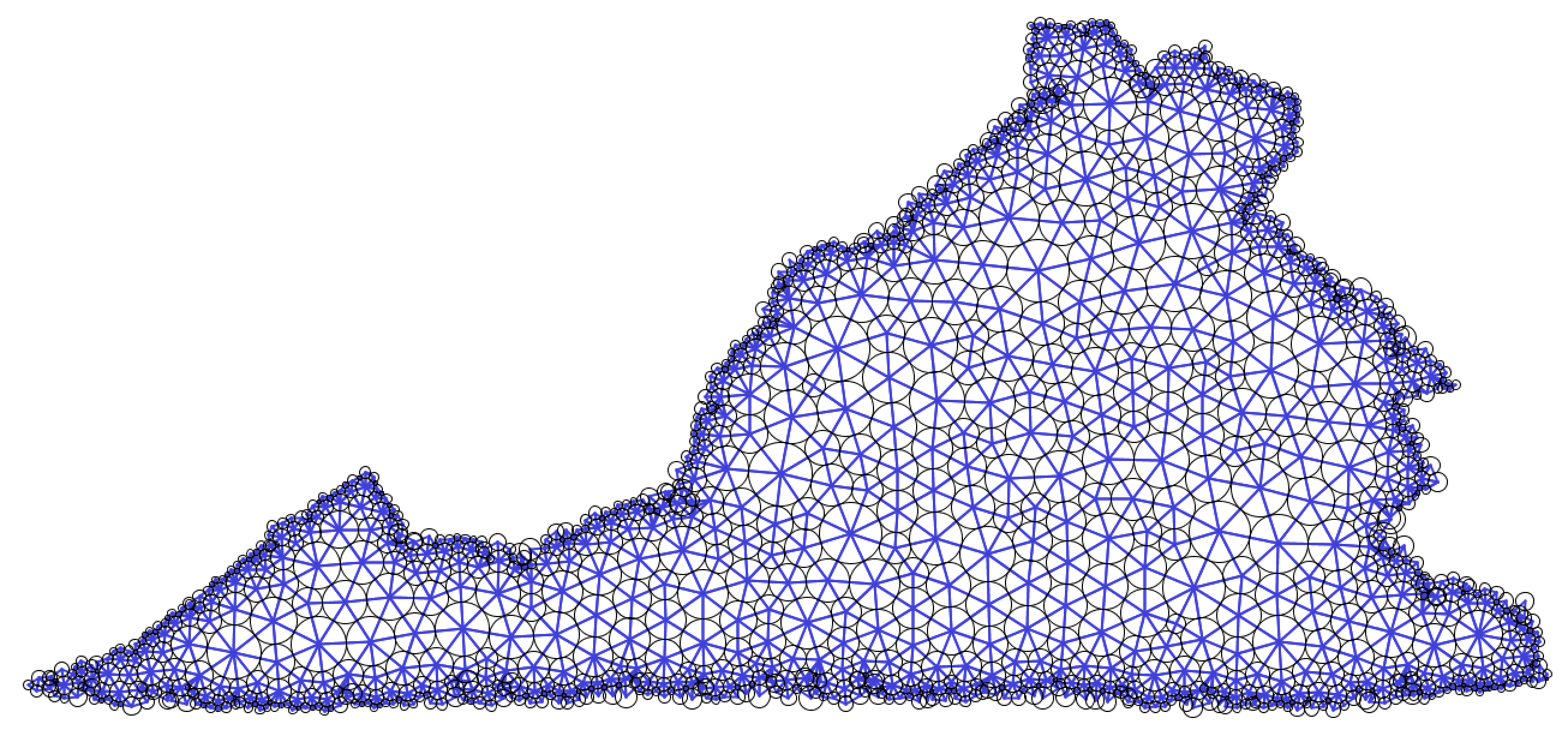 My work is characterized by problems that lie at the intersection of computer science and (constructivist) geometry. Areas that interest me include problems arising from the mathematics of origami design (what can be folded?), circle patterns and inversive geometry (cf. circle packing), and rigidity theory and folding (for example, protein folding), to name just a few. What drives all my work is a commitment to the classical ideals of Goodness, Truth, and Beauty. On top of that, geometry appeals to me because it is physical–by which I mean that you can build it and feel it and see it and play with it. In some sense this is what makes me a computer scientist over a pure mathematician. My approach to mathematics is experimental–I'm just as likely to fire up GeoGebra or hack out some code in Netbeans when approaching a problem as I am to pull out a pad of paper and a pen.
Research Pages
Circle Patterns. I've recently become very interested in circle patterns, especially those living on the sphere. In summer 2016, I gave a talk at the ICMS workshop on Geometric Rigidity Theory on some of our recent work on c-Polyhedra. A preprint of some of this work is available on the [ArXiV Preprint]. In September 2016, I gave a talk at the ICERM workshop on unusual configuration spaces on further developments of this work (Video Stream). A preprint of this work should be on the ArXiV within the next month. This is an ongoing project, so please see my Circle Patterns page for more information.
Collaborations
2016-2017 Highlights and Upcoming
UPDATE: In June 2017, I am organizing a workshop on Circle Packing, which is hosted here at James Madison University (June 6-9). Details to follow. If you are interested in attending this workshop, please send me an email.
In March 2017 I am co-organizing a special session of the AMS southeastern sectional meeting in Charleston, SC. The title of the session is "Rigidity Theory and Circle Packing".
UPDATE: In January 2017 I gave a talk on Cauchy Rigidity of Convex c-Polyhedra at the Joint Math Meeting in Atlanta. This is part of my ongoing on Circle Patterns work with Philip L. Bowers, who also gave a talk on part of our work at the meeting.
In September 2016 I gave a talk at the Unusual Configuration Spaces workshop at the Institute for Computational Experimental Research in Mathematics at Brown University. Click here to stream the video online.
In late June I gave a talk at the Automated Deduction in Geometry workshop. The informal proceedings from this workshop have been posted online here.
In early June I gave a talk at the Geometric rigidity theory and applications workshop at the International Centre for Mathematical Sciences in Edinburgh, UK. I talked about recent results with Philip Bowers on the rigidity properties of circle patterns on the sphere.
In June my paper with Philip Bowers, "Menger Redux: Embedding Metric Spaces Isometrically in Euclidean Space", was accepted to appear in the journal American Mathematical Monthly.
In March my paper with Ileana Streinu, "Geodesic Universal Molecules", appeared in the journal Mathematics in Computer Science.
In January I gave a talk titled "Geodesic Universal Molecules" at the AMS Special Session on Origami Methods and Applications at the Joint Mathematics Meeting in Seattle (JMM'16). (abstract | slides)
Misc